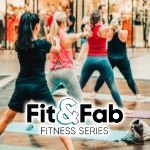 Cherry Creek Shopping Center - Fit & Fab
Fit & Fab Fitness Series
Cherry Creek Shopping Center
3000 E. First Ave, Denver, Colorado 80206
Mar. 26th
We're getting fit & fab in March! Join us each Sunday in March at 9:30am for a FREE workout class! Classes will be held in the lower level court by Lucid Motors and Madewell (park in the West Deck).

Sunday, March 26th: Vinyaya Flow Yoga presented by Alo Yoga in partnership with Kayla O'Connor

Join Kayla for a 60 minute vinyasa flow where you will find your edge, and push past it through a remix of sun salutations and a creative sequence of asanas. Ignite the fire within you and connect your mind to body through guided breath and movement! ALL LEVELS WELCOME - modifications and advancements will be queued throughout the practice, as well as opportunities for inversions. Come as you are, you will leave feeling elevated!